INSTANT FAME
The first album for EMI was "A Poem You Can Keep", Produced by Peter Dawkins and arranged by Peter Martin, it spawned the hit "I Don't Want To Know About It" and won Record Of The Year at the Australian Record Federation Awards for 1973. Ross was also awarded Best New Talent. Not a bad start!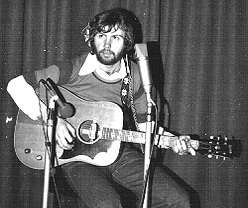 Ross continued to cement his reputation as a superb live performer on campus tours, performances at the Melbourne Myer Music Bowl with the Hector Crawford Orchestra, the Sydney Opera House (with Ariel and Brian Cadd) and a stunning contribution at the Sunbury Pop Festival. As well as his own headlining shows he also toured as support act for international artists such as The Hollies, Helen Reddy, Roberta Flack, Michael Franks (at the Bitter End in NY), Roger Miller and Dr Hook.
"I Am Pegasus" was the first single from the new album in 1974, "My Name Means Horse". It was a huge hit and helped propel the album on to triple gold status. "I Am Pegasus" also went gold and by now the first album was also certified gold. "My Name Means Horse" went on to win Most Popular Australian Album at the 1974 TV Week Awards. It is indicative of the respect Ross was accorded, that his first gold record was presented to him by then Prime Minister Gough Whitlam. Later that year Ross also represented Australia at Expo '74 in Spokane Washington (USA).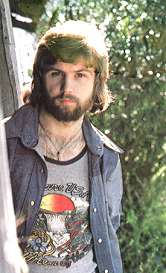 Over the next few years Ross made guest appearances on all the top television shows, from "The Paul Hogan Show" to "Hey Hey It's Saturday". He hosted his own television program entitled "Rock Show", and continued to release a number of strong singles and albums, including "After The Applause" (1975) and "Smiling For The Camera" (1977).
Towards the end of 1977, EMI released a 'Best of ...' album with a cover and title reflecting Ross's sense of humour: "I Thought This Might Happen 1973-77". This marked the end of the EMI years and the start of the next phase of Ross Ryan's extraordinary eclectic career.

FREELANCE HUMAN
1978 marked some significant changes for Ross Ryan. With his commitments to EMI completed, Ross took the opportunity to 'vacation' in the world of television. He joined old friend Mike Meade (who had just finished a stint as co-host of ABC music show "Flashez") in hosting, writing and acting in twenty half-hour comedy shows for an ABC series entitled "Give 'Em Heaps". Although in the guise of a children's show, the series quickly developed a cult following with older viewers (due in large part to Ross's ability to infuse alternate layers of meaning to the material, particularly his comedy songs).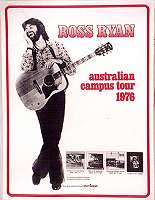 Live performances so far had been largely solo affairs and now Ross looked to extending his musical palette. Over the next few years he alternated solo tours with a series of hand picked touring bands. To keep this idea fresh, each time he embarked on a major tour Ross would rename the band (Cahoots, The Ross Ryan Brothers, The Redeemers, Ross Ryan's Tonight Show etc) and re-form a new line-up from amongst the best musicians in the country. Some of the players who performed with Ross over this period, included Eric McCusker (Mondo Rock), Ralph Cooper (Air Supply), Nigel Macara (Tamam Shud/Ariel), Toivo Pilt (Sebastian Hardy/Windchase), Peter Gifford (Midnight Oil), and Tony Slavich (Ariel / Richard Clapton Band). One member, talented guitarist Broc O'Connor, appeared in most of these line-ups and continued on with Ross as the Rambling Duo Brothers.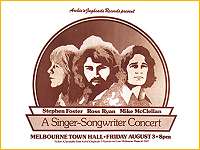 Throughout this period, Ross continued to write and release a number of independent singles including "Chaplain & Harlow", "Postmark Paradise", "Hello Stranger" and "The Ballad of the Double Bay Batman". It is a testimony to Ross' ability and reputation as a songwriter that his material has been covered by Australia's leading icons of both pop and country music: John Farnham recorded "I Must Stay", and Slim Dusty, "Isa" (which was also used in 'Slim Dusty: The Movie'.
Always looking for fresh ideas as an artist, Ross wrote and presented a one-man audio visual show entitled "Sing The One About The Horse". This quasi-autobiographical story was embellished with new songs, old faves, a plot, comedy, slides and pre-recorded tapes. As well as touring, this show was successfully presented as part of the Adelaide Fringe Festival. Also around about this time he landed the support spot for Van Morrison's Australian Tour.

Of course for Ross, change is a constant, and this phase ended with a move of base from Sydney to God's own city - Melbourne.